The dooup Complete Pet Waste Cleaer
5 in 1 Pooper Scooper for the Garden
Easy. Contact-less. Hygienic. It's the garden gadget for every day!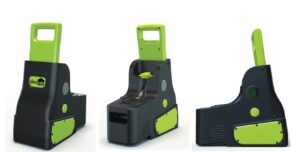 The dooup Complete Pet Waste Clearer for the garden is the only dog waste clearing device with scoop-flush technology!
ADD VIDEO HERE 
The Most Useful Garden Gadget You'll Ever Buy
Variations of scoop and grabber scoops have been around for years. But none, not even the new 'Poover' types can claim to clear as easy and hygienically as The dooup Complete Pet Waste Clearer.
Here is the unedited truth. Real poo. Tough terrains. Used as per our instructions and with a little practice, you have yourself a no nonsense gadget that clears, sanitises, stores and seals in one.
Made from robust plastic and without the need for power, this daily gadget that can be left outside in all types of weather and used to clear and clean gardens in seconds.
What is Patented Scoop-flush Technology?
Whilst flicking the waste into the collection chamber, the dooup simultaneously sprays the affected area and inner scoop with a garden friendly sanitising fluid that helps to prevent the spread of harmful bacteria and parasites. This not only keeps your lawn clear and clean but also reduces the chance of germs being trod into your home.
The garden is an extension of the home. If it is used as a toilet by dogs and stray animals, the dooup is a no brainer.